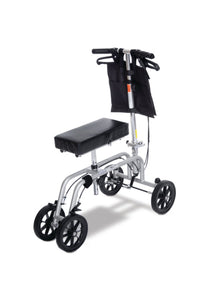 Toll Free: (877) 606-7846 / Local: (321) 939-3244
THE CRUTCH ALTERNATIVE!  Essential Medical Free Spirit is superbly engineered and designed, the FreeSpirit knee and leg walker is a truly state of the art!" This used knee walker features an over 30% turning radius as well as being the first unit with loop hand brakes.  This braking system gives you control over the unit. Also includes the widest flat free tires on the market for additional stability.  Made for all users, the FreeSpirit will accommodate users up to 400 lbs and heights from 5'4" to 6'6".  Also lightweight frame and folding tiller make the unit very easy to transport.  Lifetime limited warranty on frame.  SPECIFICATIONS: Overall Length: 31". Width: 17 1/4". Range of Height Adjustments: Knee Rest: 17 1/2" - 23 1/2". Handle Bars: 33 1/2" - 41 1/2". Weight: 22.5 lbs.
31" L x 17 1/4" W x 33 1/2"- 41 1/2" H

Features:
Wide turning transmission system
Folding tiller for easy transportation
Height Adjustable from 5'2" to 6'6"
Anatomically designed handles